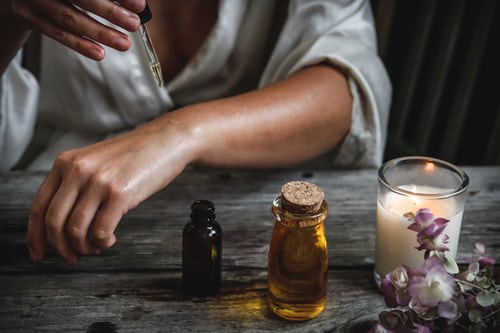 It's no secret that there is an overwhelming amount of information out there about CBD oil and it's uses. In the CBD oil industry, everyone wants you looking at their product and choosing it to add to your health regimen. Why are you using CBD oil, though? This question is the first place to start when deciding what CBD oil will work best for you. There are key questions to ask yourself before choosing a CBD oil item or a product that includes CBD oil. So, we're here to help. We've gathered the info on CBD oil and its many uses and have kept things to the necessary basics so that it's not an overwhelming amount of information. This article can be used as a guide when trying to select the CBD oil that will work for your specific needs.
As stated above we begin by asking ourselves the question, "Why am I using CBD oil?" If you're using CBD oil for anxiety, we suggest taking a CBD oil sublingually and pairing it with vaporizing CBD concentrates. If you're using CBD oil for muscular pain we highly recommend a topical treatment paired with taking CBD oil sublingually. There are times when CBD oil and it's variations can even be tripled up on application in order to tackle the issue at hand from multiple angles. Let's take a look at the different uses of CBD oil and it's variations below:
1. Topical -
Perfect for: Muscular and Nerve Pain
CBD oil can be infused into and applied in many ways. One of the wonderful ways we have figured out to utilize the healing benefits of CBD oil is through topical application. CBD oil can be infused into balms, salves, lotions, and other oils so that it is easy to apply topically. This method of CBD oil use is perfect for muscular and nerve pain. When massage into the area it's applied the CBD oil infused into the product penetrates into the muscles and nerves and almost instantly works to soothe inflammation. Inflammation is the #1 cause of pain in our muscles so this application of CBD oil could be exactly what you need to resolve muscular or nerve pain. The great thing about topical CBD oil applications is that they can still be applied when CBD is taken orally and when it's being vaporized. You don't have to choose one or the other. That's the beauty of CBD oil. 
2. Oral -
Perfect for: Pain, Anxiety, Depression, Insomnia 
Slowly but surely it's evolving into common knowledge that CBD oil can be taken sublingually in order to balance our systems out internally. If you'd like to learn more about that please feel free to read our very first blog entry which will explain all about how CBD oil balances out your Endocannabinoid system. When taken orally, CBD oil enters the bloodstream and works to balance a vital system in the body. When taken over time this method of consuming CBD oil can gradually resolve anxiety, depression, pain, and a multitude of other life altering setbacks. There are several options for taking CBD oil orally: Tinctures, capsules, CBD oil it it's original form. The most potent of the 3 is typically a full spectrum CBD oil that is to be taken sublingually under the tongue. CBD oil capsules and tinctures tend to have a lower potency but are wonderful ways to micro-dose CBD throughout the day as well as introduce it into your routine. 
3. Inhalation - 
Perfect for: Instant relief from Pain, Anxiety, Depression, Insomnia & Physical Pain
Vaporizing CBD oil is our favorite way to knock out pain and discomfort FAST. Although this method of consuming CBD oil won't balance your system out it's the perfect go-to when you're in a moment where instant relief is needed. There are a couple of different methods of inhaling CBD oil that have been found to alleviate discomfort and pain. CBD oil cartridges are available to attach to a small battery and keep in convenient areas such as a purse or on your bedside. CBD oil is offered in concentrate form for those familiar with dabbing concentrated plant medicine oils. CBD flower is also available to smoke just as you would other healing herbs. Most find that whichever symptom plaguing them before inhaling CBD oil gradually eases with each breath in of the healing plant. If symptoms persist this method can be paired with both oral applications of CBD oil as well as topical CBD oil applications. Just simply ingest your CBD oil orally, apply topically, and inhale your CBD through the method of your choice until your symptoms subside. 
All of these methods should definitely be discussed with your doctor before beginning. CBD oil has been scientifically and medically proven to assist in naturally healing the body internally, however consulting with a doctor is always the smartest choice. We hope this guide provided you with a more thorough knowledge on the different options and ways that CBD oil can assist in easing discomfort, pain, insomnia, or just balancing your system. If you have any questions about the uses of CBD oil and it's applications feel free to email us at info@wellness.forsale. As always, we are here to help.