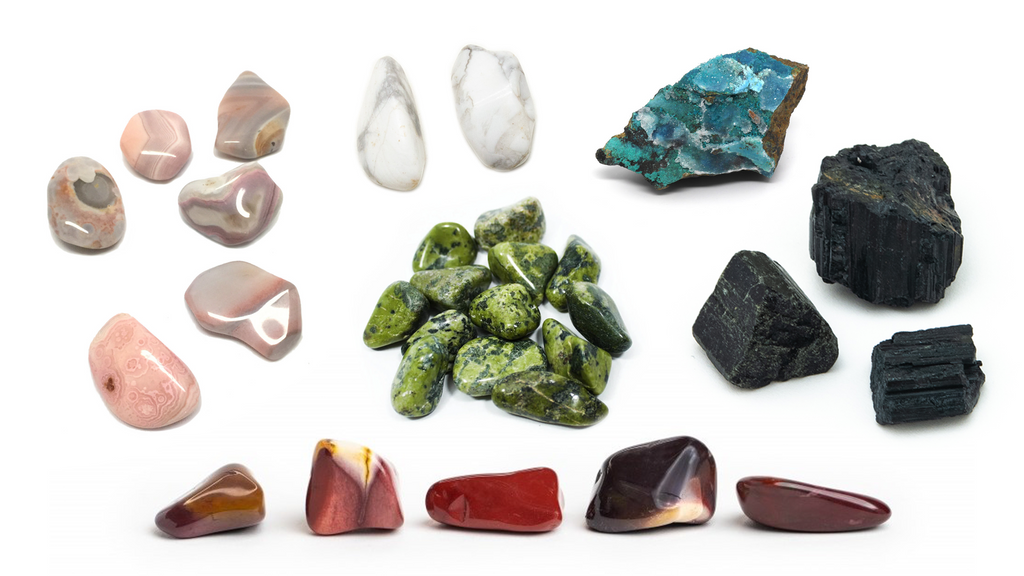 Enhance your life with the powerful energy of our newest crystals
Energy stones are dear to our hearts here at Wellness For Sale, and now, we have a new batch of crystals to add to our growing collection of power gems. Let's take a look at the deeper meanings of our latest additions.
Black Tourmaline Properties
This potent jet black stone is a swallower of negative energies. For those in need of some protection, look no further than Black Tourmaline as this gem will provide its bearer with a powerful shield. Ward off dark feelings, anxieties, and fears all while grounding yourself with Black Tourmaline's powerful earthly connection, and there's also a pendulum option for those who wish to keep this gem close at all times.
Botswana Pink Agate
Multiple colored layers of pink, grey, black, and orange make Botswana Pink Agate a visually mesmerizing stone. But on a deeper level, this gem is comforting and soothing for the bearer, and is most useful for those experiencing loss, loneliness and grief. Botswana Pink Agate is a very positive stone and can help you stop dwelling on difficulties by refocusing you on love and the strength to find solutions to life's many trials.
Serpentine Crystal Meaning
This dark green gem has long been used to detect negative energies, ward off bad luck, and provide protection against intentionally malicious behavior. Seen as an excellent stone for outdoor meditation, Serpentine Crystal possesses a powerful earthly connection, and also delivers a 1-2 punch by warding off negative energies and drawing in positivity at the same time.
Mookaite Meaning
Mookaite is an amazing stone in times of stress. This nurturing gem helps to inspire change and versatility when confronted with difficult situations, while still providing a protective barrier against negative energies. Additionally, Mookaite can raise your enthusiasm levels and also help ward off distractions.
Chrysocolla Meaning
Known as the Teaching Stone, Chrysocolla promotes higher learning and curiosity. This blue, green, and copper colored gem raises awareness, which is perfect for those seeking truth and authenticity, and thanks to its calming nature and gentle flow, you'll be fully zen while you do.
Howlite Properties
Howlite is one of the most powerful calming stones there is. This white crystal can temper major storms in your life, soothe an overactive mind, and also help you sleep by creating feelings of stillness, tenderness, and open-mindedness. Howlite also teaches patience, and can promote creativity and artistic expression in its bearer.
Be sure to check out our
full range
of energy crystals here at Wellness For Sale, and if you're interested in learning more about the meanings of these powerful gemstones, then you can read more
here
.
Continue reading