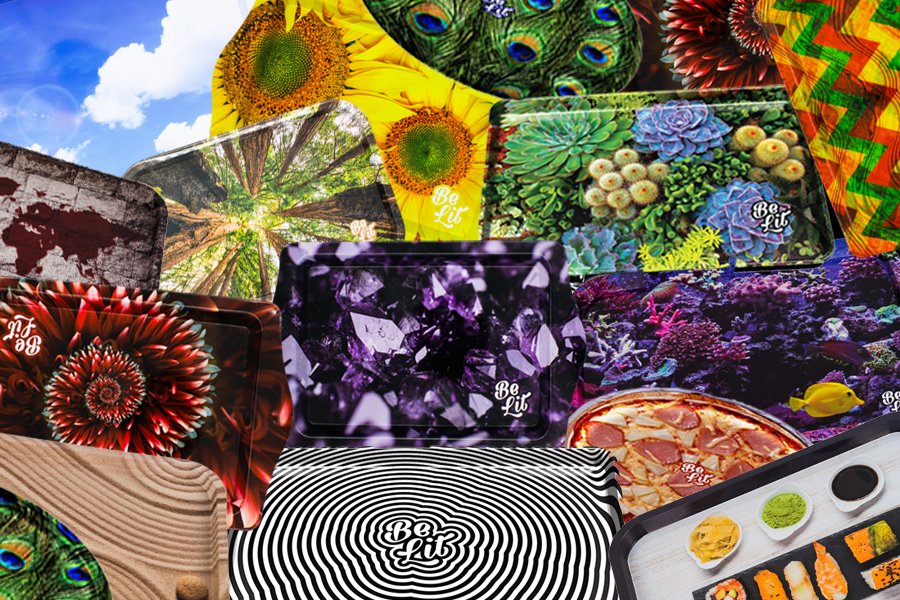 A rolling tray is a must for every cannabis smoker. But a rolling tray doesn't need to be boring and utilitarian when you can spice up your joint building with some eye-catching design work. So, it's time to get in the zone with these mesmerizing rolling tray designs by Be Lit Brand.
Ripple Rolling Tray
Trippy patterning and clean graphic linework combine to produce the classic ripple design from Be Lit Brand. A bold and simple choice for the minimalist smoker. 
Leafy Rolling Tray
It wouldn't be a stoner rolling tray without some weed leaf patterning, and this classic cannabis design will display your love for bud loudly and proudly.
Smokey Marble Rolling Tray
Ground yourself with the earthly feel of marble patterning. A stoic and subdued design for the dark and broody stoners amongst us.
Tie Dye Rolling Tray
Channel your inner hippy with this colorful tie dye spiral, and make every summer the summer of love with this far out design.
Peacock Rolling Tray
Talk about mesmerizing. You'll be lost for hours in the intricate designs of nature with this peacock feather rolling tray.
Vinyl Rolling Tray
For the music lovers out there, take a look at this red vinyl deck design. The perfect tray to accompany your beats as you smoke.
Sand Garden Rolling Tray
Channel the inner peace of a Japanese sand garden and let the calming lines of Feng Shui keep you chill as you toke.
Amethyst Rolling Tray
Supercharge your session by bringing some high powered crystal energy into the mix with this stunning purple amethyst design. 
Rasta Rolling Tray
Celebrate the cultural and spiritual roots of Rastafarianism with this bold and colorful Jamaican inspired rasta rolling tray. 
Mandala Rolling Tray
Meditate on the universe with this beautiful and intricate blue mandala design. The perfect tray for the thoughtful spiritualist. 
That's just a few of the stunning designs available here at wellness for sale. Be sure to check out our complete range of Be Lit Brand rolling trays for more mesmerizing designs.
Continue reading